Las Flores Guest Testimonials
-----Original Message----- From: Jamie Calderon Sent: Monday, September 10, 2012 4:41 PM To: Wavehunters- Henry Subject: Re: Las Flores Surf Club We scored Punta Mango and Flores. It was all time Labor day weekend. Thanks for a great trip.
We scored Punta Mango and Flores. It was all time Labor day weekend. Thanks for a great trip.
Jamie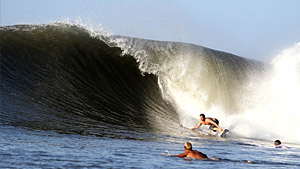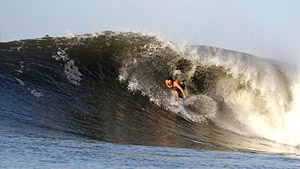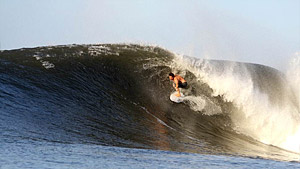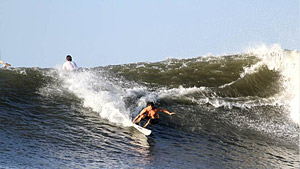 ---
-----Original Message----- From: Robert Vincent Charles Sent: Saturday, August 25, 2012 8:55 AM To: Wavehunters- Henry Subject: Re: Las Flores
Henry, Cannot express how Happy we've been here at Las Flores. The Staff and Facility are 5 Star. Eddie has made our trip fantastic. We're sad to leave But you'll be seeing alot of Trini's at Las Flores.
Best regards
Robert V Charles LL.B (Hons) BVC (Lond) Attorney at Law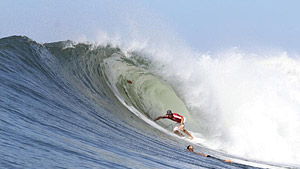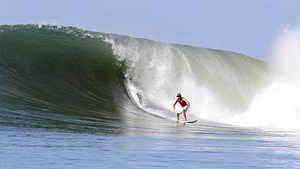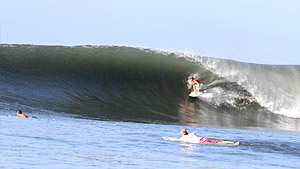 ---
-----Original Message----- From: Paige Ben-Dashan Sent: Sunday, August 26, 2012 5:55 PM To: Wavehunters- Henry Subject: We're having a great time here!
Gabriel has found his legs and is loving the surf. Here's a photo of Josh and Ashe earlier this evening. Thank you for making this happen.
Paige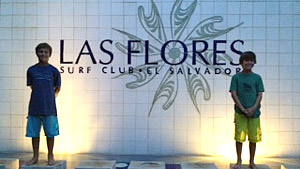 ---
-----Original Message----- From: Walter Brannan Sent: Monday, August 27, 2012 8:44 PM To: Wavehunters- Henry Subject: Re:
Great trip. Place looks good and hung out with another family, Gabriel and Paige & sons, the last few days. Going to try to coordinate with them in the future. Monday, although not the peak in size, was one of the cleaner bigger days. Thursday was the apex, DOH+ with some good size but a little higher tides than you might want for Las Flores, and Friday, a touch smaller was still pretty incredible. For 6 days straight, Wed-Monday it was solid surf with Sunday dropping to 1 1/2 overhead until another push on Monday. Super fun.
Walt Brannan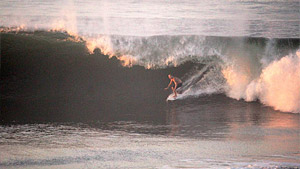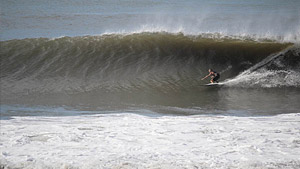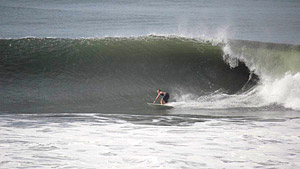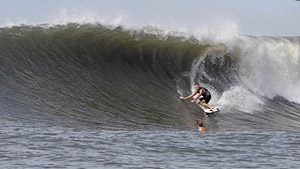 ---
-----Original Message----- From: Clifford R. Mermell Sent: Wednesday, August 15, 2012 4:40 PM To: Wavehunters- Henry Subject: Las Flores
Hello Henry,
Hello Henry, I want to tell you that we thoroughly enjoyed Las Flores last week. I took my three sons (22, 20 and 18) and my wife. My family rated it a 10 out of 10. The accommodations were excellent, the staff was great, the other guests were fun and the waves were amazing. We bonded with the other guests like we were one big family. We laughed a lot and had a super time. The massage overlooking the break with the waves breaking in the background was priceless. I would highly recommend this spot to anyone. We hope to be back soon!
On another note, my son and I were thinking about maybe trying to catch another of your spots this weekend. I know it is short notice, but I wanted to ask your opinion on what is the very easiest of your spots to get to from Miami. The commute from San Salvador to the hotel was a little long. Would one of your other spots be easier to access for us? Please let me know.
Thanks, Cliff Clifford
R. Mermell, Esq. Gillis, Mermell & Pacheco, P.A. 8603 South Dixie Highway, Suite 205 Miami, Florida 33143
---
-----Original Message----- From: impactsurf Sent: Saturday, August 18, 2012 6:59 AM To: Wavehunters- Henry Cc:: Cheryl Williams Subject: LAS FLORES EL SALVADOR
Hi Henry,
I LOVED MY TRIP TO LAS FLORES EL SALVADOR!!!!!!! It was everything & More than I expected - We felt very safe & secure 5 STAR RESORT - STAFF AND SERVICE WERE extremely friendly, courteous The Food Very Good - the boats & Maurice and 2 others captains were knowledgable & looked out for your safety. The spa was great WHAT A VIEW LOVE IT THE WHOLE SET UP IS GREAT - it's the most I've Paid for a vacation BUT THE WAVES OMG - that's me in the Green rashguard watching Dave get barrelled THAT WAVE IS A MACHINE NONSTOP the whole week we were there. IT'S GREAT BEING SMALL ONLY 8 ROOMS - OUR ROOM WAS AWESOME #8! The crew staying there from Calf -australia, Puerto Rico, Argentina, florida, Virginia Guatamala - having dinner together, playing pool - The local kids taking pics, videos I got some good ones I WILL DEFINITLY WILL go back there or to one of the other destinations on your travel list I APPRECIATE your professional service and highly recommend it to my friends
THANK YOU CHERYL WILLIAMS - FLORIDA
---
-----Original Message----- From: James Wallace Sent: Saturday, August 18, 2012 9:41 PM To: Wavehunters- Henry Subject: RE: Las Flores
Hi Henry. I just wanted to send you a message to commend you and the staff at Las Flores. Both my wife and I had the best honeymoon that could possibly be had. After the stress of planning a wedding it was a great relief to have a week that we did not have to think of anything. My wife was super excited and commented that she has never been so relaxed in her life as she was at Las Flores. The atmosphere was great, the crew of guests that were there with us was awesome. The resort is intimate and we made a lot of friends during our stay. I was really impressed that with all the guests and all the people coming and going through Las Flores, every staff member knew us by name. The food was excellent, the accommodations were better than expected. I especially would like to compliment our driver to and from the airport, unfortunately I am bad with names, he is the shorter gentleman with the Quiksilver hat. He made the trip to and from the resort great and helped us with our Spanish. Also, a big thanks to Antonio our boat captain to Punta Mango. He was super stoked and you could tell he loved his job, he lined us up and hooted for every wave. Realmente un momento especial. Again, Las Flores is a great resort that I will recommend to all my friends looking to take surf trips. We look forward to coming back very soon.
Hast que, el proximo ano muchas gracias.
James Wallace
---
-----Original Message----- From: Brett Thomas Sent: Thursday, August 30, 2012 7:45 PM To: Wavehunters- Henry Subject: Aloha Henry....
We had a great time at Las Flores....great waves the first few days and the staff , and especially Eddie, were great! The big surprise was how good the food was...wow....unexpected surprise. Mahalo for a great trip and we'll visit another of your resorts before long.
Brett Thomas
Hey Henry,
A quick note to let you know our time at Las Flores was spectacular. It completely exceeded all our expectations. It truly was a one-stop holiday for the entire family. The local kids took immaculate care of our boys. A month after our return my 5 and 7 year boys are still asking for their friends from the beach. On a special note - Vicel, the yoga instructor truly sealed the deal for me. Not only was she lovely, she expertly guided myself and fellow yoga practitioner through 6 glorious classes. The staff provided exemplary care - always helpful and professional. We'll be booking for next year.
Thanks again, Karen
Karen Williams Principal
http://www.williamscraigdesign.com/
-----Original Message----- From: Sam Trammell Sent: Monday, November 01, 2010 2:58 PM To: Henry@wavehunters.com Subject: thanks!
Henry, we had an AMAZING time at Las Flores. I had an Epic session at Mango with Regis, Jerry and Mark (longtime costumers who know you), where I got the first two legit barrels of my life--that's me in the second one below. My brother got into the country no problem with his passport. We got a ton of surfing in and had great food. Thanks for all your help.
Sam Trammell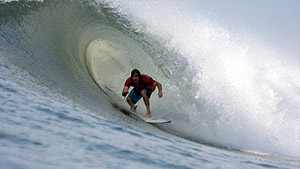 ---
-----Original Message----- From: Mark Chaffiot Sent: Monday, November 01, 2010 8:44 AM To: henry@wavehunters.com
Last Sunday (10-24) in El Salvador- I finally got my "Harvey Wallhanger" shot. If you listen closely, you can hear the puckering sound of my sphincter shrinking.
Mark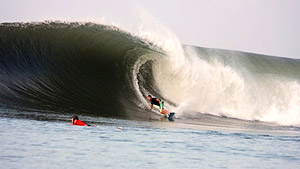 ---
-----Original Message----- From: Mark Kafka Sent: Monday, November 01, 2010 3:56 PM To: henry@wavehunters.com Subject: Re: Las Flores
Henry - forgive me if I've already sent this message to you (I forget as I've done a lot of emailing recently). Las Flores was great. Perfect set-up, and the overhead surf all week long didn't hurt. Thanks again for your help. The rental boards were great (see attached).
Mark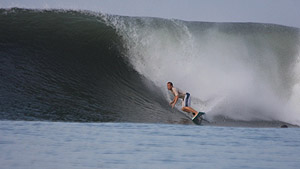 ---
-----Original Message----- From: malcolm lochiel Sent: Monday, October 11, 2010 8:52 PM To: henry@wavehunters.com Subject: thanks!
Hi Henry, Just a quick email to let you know how much fun the trip was! Food was awesome, service was outstanding, rooms were great! I would especially like to give a shout out to the good captain Antonio, he was extremely knowledgeable on any given day and obviously knew the spots very well. He took us on a very productive afternoon of fishing, and put up with those of us who wanted to make the daily trip to mango on the early boat, even when he knew the conditions were wrong! He has a great attitude and is a big asset to the resort. It was very clear that the locals hold him in high regard, and he really helped me in finding some good waves at mango whenever we paddled out together. The wait staff iin the restaurant and the drivers were extremely friendly and helpful as well. My wife and I are looking forward to going back, but next time we would like to bring our kids, too! I have also spread the word to my friends here in texas about the place, and perhaps some day there will be a week with more Texans than Californians!
In any case, thanks again, Malcom Lochiel
---
-----Original Message----- From: tom ruiz Sent: Saturday, October 09, 2010 9:37 AM To: henry@wavehunters.com Subject: Las Flores
Hey Henry, we had a great time las flores. every single guy has said it was the best trip they have been on and for sure it was one of the funnest weeks of our lives. even with the rain all the rain the first half we still had a blast. the staff took excellent care of our team. The food was incredible and the rooms were nice. we must have drank every beer they had available and we surfed every day and it just got better as the week went on. las flores was meant for me and is now on my annual travel schedule. i want to go back in april/may. good times and good memorys. what is the email address for las flores. i would like to say hello and thank the staff.
Thanks for all your help. Tom
---
-----Original Message----- From: Laurent Hamon Sent: Saturday, September 25, 2010 5:02 PM To: Henry Morales Cc: Tim and Sam Canty; Todd Canty; Brad & Elisabeth Silverman; Bob Nahum; Kevin Rosenbloom; Bill McSwain; Mark Johnson Subject: Thumbs Up!
Hello Henry, I wanted you to know what a fantastic time we had at Las Flores. The surf was great! Sean, who we had the pleasure to meet, must have told you that. And the stay at the hotel was also a real pleasure. The food was excellent and the service was... +++! Your hotel staff is "top notch": from the bar to the restaurant to the boat crew,... Friendly, attentive, engaging,... They really made us feel welcome and at home. (Stanley in the restaurant even speaks French! ;-) We also enjoyed the special dinners with Folkloric dancers and traditional Salvadorian fare, the BBQ with Mariachis... Good way to break the evening routine. Well done! So, thumbs up! You personally made the trip easy to organize and the rest followed naturally. Wavehunters and Las Flores delivered!
Thank you, and here's to the next surf adventure! Laurent
---
-----Original Message----- From: DE PELLEGRIN Pablo TENARIS Sent: Monday, September 20, 2010 1:32 PM To: henry@wavehunters.com Cc: rodrigo@lasfloressurfclub.com Subject: Las Flores
Henry, Rodrigo, we spent a great time at Las Flores. The resort and the people were very nice. Waves weren't that good at the begining of the week but gave us some time for warm up, luckily the swell came in and it was fantastic. Hopefully we'll be able to come back next year with a bigger group from Argentina.
Thank you. Pablo
---
-----Original Message----- From: zevan cohen Sent: Tuesday, August 10, 2010 1:54 PM To: henry@wavehunters.com
Hi Henry, Just wanted to drop you a quick note that we had a great time at your resort. I was concerned coming down with me being a beginner and all, but your staff and instructors were great. The waves were too big for me, but I always seemed to find something on the inside that was suitable for my level. Food, room and service were top notch. I would definitely return one day which is the best compliment I could give a place. Good job and keep up the good work.
Thanks Zevan the Kook
---
-----Original Message----- From: Jonathan Brill Sent: Monday, August 09, 2010 11:02 AM To: henry@wavehunters.com Subject: RE: Las Flores Surf Club check-in voucher and guest information
Henry, Good times at Las Flores. We had consistent head high for most of the week. No need to nut up but great fun. Love that Mango break. Resort is A + - staff is really well trained. The rooms were always cleaned in the early a.m. The spa was out of this world. Food was amazing – the menu was mixed up nicely. Everyone was on top of what they were doing- from boat captains to wait staff. Only suggestion from me would be to add a bar / lounge area closer to the beach- like built off the dining area. The reception / check in area is nice- but not for long term lounging and it's hard to see the break.... I was thinking maybe you can't build a bar down there or wanted to keep riff raff further away. Just my two cents.
Thanks again Henry- good job. Jonathan
---
-----Original Message----- From: Thorpe, Trevor @ Walnut Creek Sent: Sunday, August 08, 2010 12:13 AM To: henry@wavehunters.com Subject: Re: Las Flores check-in voucher and E-ticket itinerary
Henry: I had a fantastic trip! From Juan Jose's warm and enthusiastic greeting at the airport to Francisco's comical personality at the bar, the experience was great. Las Flores was a terrific resort, on par with Tavarua for accommodations and services. Aesthetically the property, bay, palms and evening tropical storms were beyond expectations. Rafael was in charge and made sure everything was in order; he's very attentive and operates at a five-star concierge level. We scored consistent overhead surf. I really enjoyed the point break (on all tides there was a different set-up) and Punta Mango was definitely a fun down-the-line peak. The crowds were minimal, and the locals were very nice (but I wouldn't cross those guys!). The spots were reminscent of many of California's better right point breaks, but with 80 degree water and 5-10 guys out. Maricel (sic) was a great boat guide, and I'd have to say that the 7:30 boat experienced less crowds than the early boat. The food was superb and the service was great. Larizza is special; she's a great waitress. She took the time to teach me Spanish and always looked after my needs. I also highly recommend Jessenia (sic) for massages. I've traveled all over for work and pleasure, and I must say she gives the best deep tissue massage (specifically for surfers' muscle wear). As far as activities, Mauricio looks after the surfers and was a very cool host. Some friends took lessons with Yepi and said he was great. Even the armed guards were personable and fun to chat with. Seriously, there was no lapse in service (not bragging at all, but I'm a Starwood Platinum member so I have some knowledge/experience with resort staff). Overall, it was a first-class experience. El Salvador was absolutely beautiful; the volcano was awesome, the evening storms were fantastic, and the people were warm and rich with culture, pride and tradition. It's more formal than I expected, and I appreciated their protection of their ways. I must saw El Salvador is a little more raw than other Central American countries I've traveled to, and that respect for the locals (especially the ladies) is of foremost importance to visitors as disrespect would obviously not be tolerate (and most likely be handled much more severely and expeditiously than other places I've traveled, and I grew up a haole on Oahu in the 70s). These factors make El Salvador all the more precious to me. I'd highly recommend the resort and surf spots to my good friends, and I hope that the resort (and community) retains it's character. I also hope and pray the areas doesn't turn into another Gringoville (like many others have), and that the Government protects the area for ecological and surf tourism with limited access. Thank you again for recommending this trip. I have many memories as I fly back to Santa Cruz.
Best wishes, Trevor Thorpe
---
-----Original Message----- From: Jacobs, Douglas Sent: Tuesday, July 13, 2010 7:28 AM To: henry@wavehunters.com Subject: Las Flores Trip
Henry, Just wanted to drop you a note to say we had a great time on the trip. The waves, accommodations, staff, food and cold beer was top shelf. Looking forward to my next trip!
Thanks again, Doug
---
-----Original Message----- From: Statman, Nick Sent: Tuesday, June 08, 2010 1:55 PM To: henry@wavehunters.com Subject: Thanks
Just got back late last night. The trip to Los Flores was fantastic. Surf was good to great the whole time. The resort is great – perfectly setup for surfing. The food was great and there was plenty of it. The staff couldn't have been nicer or more helpful. The transportation to and from the airport was effortless and our guy (can't remember his name off-hand) was great – good driver, very helpful and friendly. The rooms were comfortable and immaculate. The boats were well maintained and the captains were really helpful, accommodating and experienced.
There were really no big problems and whenever a little hiccup happened the staff resolved the problem quickly. I plan to make reservations for the same time next year. I just can't say enough about how nice and attentive the staff was. I especially want to thank you for helping me with my hotel and plane reservations and payments. I kind of messed up and was late with my arrangements. Your help in getting things straightened out is really appreciated.
Again, thanks. If your care to hear any of my unsolicited comments and/or recommendations I would be glad to provide them. No gripes – just maybe some helpful suggestions. Nick Statman
---
-----Original Message----- From: Patrick Willette Sent: Friday, May 21, 2010 8:53 AM To: henry@wavehunters.com Subject: Las Flores - Feedback
Hi Henry, The trip was over the top! The resort was fantastic. The layout is so well thought out. I loved being able to see the point breaking from just about every area. I could walk out on the deck of my room and check the surf, see it from the bar and watch it from the dining area. The secure board storage area down on the beach level made it so easy to grab a board and be in the surf in minutes. The level of service was way more than I had expected. The meals were delicious, the wait staff was highly attentive and the beers were always icy cold. We also scored some solid swell and were able to ride both Las Flores and Punta Mango with optimum swell and conditions. The icing on the cake was coming home with killer surf photos shot by the local photographers (see attached). I've traveled a bit and have never returned with goods like these. It really makes the trip that much more special. Considering Las Flores being so close, the high quality surf and the top-notch resort experience, I'll be thinking twice about heading to Indo (and I'm a goofy-foot). Thanks for hooking us up!!!
Patrick Willette San Diego, CA
PS: Your recommendation on surfboards (highest performance thruster you can ride) was spot one!!!
---
-----Original Message----- From: Catherine Aurelio Sent: Tuesday, May 04, 2010 1:11 PM To: henry@wavehunters.com Subject: Las Flores
Hey Henry, Had a great time at Las Flores. Great waves and even greater people. I'd love to get Rafael's email so that Drea and I can keep in touch. We thought we'd see him the day we left, but he wasn't working. Let us know his email address as well as the mailing address of Las Flores. We'd be happy to gather and send supplies when we can. Thanks again for creating a great place. Hopefully, we'll see you down there someday.
Best Regards, Catherine
---
-----Original Message----- From: Brian Farias Sent: Wednesday, April 28, 2010 6:00 PM To: henry@wavehunters.com Subject: Hi Henry
Henry- We had an amazing time at Las Flores. The resort is so well thought out and beautiful. We scored incredible waves and the staff was so great. Look forward to going back. I have a request. My friend Jay and I caught Las Flores firing on our last morning- Tuesday. The local photographer was in the channel and must have got some amazing photos. I know I still have some of those waves in my permanent memory! I had got a bunch of his shots from the previous days and he does a great job. Is there anyway one of the staff can get us in contact with him so we can try and get some shots. We had to catch the ride to the airport before he came in that morning.
Thanks again for everything, Brian
---
-----Original Message----- From: joseph cavaiola Sent: Tuesday, April 06, 2010 10:02 AM To: henry@wavehunters.com Subject: Las Flores
Henry, We just finished a week at Las Flores Surf Resort. It was every bit as wonderful as I could ever have expected. The service, the hospitality, the accommodations and the surf were incredible. I have been surf traveling for over 2 decades and I must say that Las Flores, El Salvador experience is the most complete venue that I have been to. Thanks for puttign this together. I am already looking forward to coming back in 2012 a tthe same time. Let me know when I can start booking. --
Joe Cavaiola
---
-----Original Message----- From: William H. Soskin Sent: Saturday, March 06, 2010 8:22 PM To: henry@wavehunters.com; 'Josh Soskin' Subject: RE: Las Flores Feb 26-Mar 3 Confirmation and Invoice
Henry Just to let you know, our trip was fantastic. The people who work there are totally committed and professional; the rooms are super; the vibes are great; the food is delectable. Gee... I can not complain about anything! A couple of little suggestions: mountain bikes for lonely wives to ride and for surfers when it is flat. And keep developing stuff that wives and girlfriends who don't surf can do...trips to a village; visiting an agricultural family; bird watching....all that sort of stuff.
But...bottom line...we were completely happy. Thanks again
---
-----Original Message----- From: Vivian Sent: Monday, March 01, 2010 7:04 AM To: henry@wavehunters.com Subject: great vacation
Dear Henry, Thanks for all your amazing help in arranging a wonderful family vacation for us. The Las Flores resort was truly a surfer's heaven. My boys had a blast and Sam and I were happy, well fed and pampered. The staff could not have been nicer or more accommodating, catering to all our needs and wants quietly and efficiently. Needless to say, the boys were thrilled to see El Salvador in this month's surfer magazine! I look forward to booking another vacation with you soon Next time I hope that we are an easier customer, with out so many frantic last minute flight changes! We have learned the hard way to book only direct flights where possible in the future!!
Thank you again for everything. Kind regards, Vivian
---
-----Original Message----- From: Haddad, Michael Sent: Sunday, January 03, 2010 6:51 PM To: henry@wavehunters.com
Henry, Quick note to let you know we loved our trip to Las Flores. We had perfect waves for our ability, 3-5 ft with a few larger sets. The hotel was excellent, just enough comfort but not over the top. The staff was helpful, but not in your face; food fine and better than expectations. The beach was beautiful, authentic and not crowded. We look forward to going back when we become better surfers and time of year when waves are bigger.
Thanks again for your help. Mike Haddad
---
Hi Henry,
We've just returned from Las Flores, and all of us had a great time. The resort exceeded everyone's expectations...The accommodations, the food, the staff and the surf were all amazing. Thanks again for all your help. Eric and I will be in touch soon to reserve another week for next year.
Talk to you soon. Sean
Sean M. Pence
SVP & General Counsel,
Americas Quiksilver, Inc.
---
Henry,
I just wanted to drop you a note and say that we had a great time at your place in El Salvador. It was a dream to be there, your staff was great, the facilities very nice, and the waves were so much fun. What a perfect right. I hope your arm is healing well. If you get to Hawaii, look me up,
Aloha John Morgan
---
Henry,
Thanks for a AWESOME trip, I WILL be back. You have a great set up there and all of your staff is super cool. Mark Morgan
---
Henry,
We had a great time at Las Flores last week. Good waves, good food and good times. Having been to Las Flores last June it was great to see the upgrades and improvements they have made. I especially liked the Dining area overlooking the point and the new board room with lockers. Also the addition of a menu was nice for breakfast and lunch. Just more options all around. Julio and Gabby were a nice change from Luis, they were very accommodating. Francisco was spot on as always with his sense of humor.
Although we did not catch it as big as I would have liked, it was still all-time. It was 4 - 6 every day with a morning and afternoon low tide. We had at least 2 good session per day with sunny skies and favorable winds. Mango never quite turned on, but it was a nice change from Flores. We even had a night session under the full moon that was insane.
As a mid week break we did the Eco tour to the volcano and coffee plantation. We still managed to get in a morning session and an afternoon session, but it was nice to get away for half a day and see some other parts of El Salvador. Tobias was our guide and he was very knowledgeable in El Salvadorian culture and spoke very good English.
I think next year we may want to try something away from Central America. We have been down there over a dozen times and might want to try something like the Maldives, mentawais, Fiji..... Let me know some of the packages that you offer. I have a friend, Scott McCranels who has been doing the Maldives the last few years and loves it. So let me know.
Lastly can you forward to me the email addresses of the 10 guys from California that were there last week. We all got along real well and were talking about doing another trip together. They were Jay, Shawn, Jim, Jim, Steve, Trevor, Doug, Tim and John. We had to leave before we had a chance to exchange addresses.
Thanks again, Andy
---
Hi Henry,
Thanks for such an awesome trip to Las Flores, El Salvador.
We loved it!
Joy
---
Henry,
Thanks again for all your help in coordinating our trip to Las Flores. Our flights went super smooth and our boards got there, thankfully, with us and in one piece. From the time Jose picked us up to when he dropped us off... Clay and I had a great time... Country was beautiful, Waves were fun (would like to see it double overhead next time), Staff was awesome, and the food was off-the-hook.
Much Mahaloz, Nathan
---
Hola Henry,
Thanks for the killer trip last week. Everything went perfectly! You called the surf and the conditions were super. Pretty much every day was surfable all day, some glassier than others.
We had a great surf before we left Friday AND while we were packing the wind picked up and truly blew it out for the first time all week. Wow...talk about luck!
The improvements made since October are fantastic. They kept the best and improved the rest.
I can be a walking, talking ad for Las Flores if you need it...I have told several of my buddies (actually I should rephrase the verb to raved) about how great a time Kenji and I had.
Thanks again, Dana
---
To all of the Los Flores 8/3-8/11 rat pack,
Seriously it was an absolute pleasure to meet everyone and spend the time not only surfing together, but eating, drinking, relaxing and sharing stories vacationing as a close knit group.I think we'd all be hard pressed to plan such a trip with friends and have a better time than (I think) we all did. It was just a great and widely diverse crew (without any of the riffraff so commonly experienced on surf trips). Kathy and I had great week vacationing together with all of you, celebrating a few birthdays, etc.Let's plan a return trip next summer and I'd expect that those that didn't bring their significant others certainly will next summer. We for two are coming back for sure. Mitch I can only say I'm happy you're be able to return; alive and in one piece after the scare of the week. For those that missed it Mitch managed to take off and land on "the rocks" at the point, high and dry, on his board.none the worse for ware, sans some confidence and ego.
Now for what else you may have missed if you left before Friday night; first the Friday night session was just like the last few days, Epic, I only surfed for 10 hours on Friday! Then on Friday night a couple, Gabby and her husband, showed up and informed us that they work 3 out of 4 weeks a month as managers and tour guides for the resort. Of course they were off for the Holiday week we all appeared on. They mentioned lot's of things they arrange for all to do and explore outside the resort and seemed very knowledgeable (good for non surfing significant others on a return trip). Later Friday night it poured, and I mean poured, so much that when we awoke on Saturday morning the swim up Bar Pool was filled with muddy water. Also a break in a dam or something else upstream apparently brought down a ton of sewage as well as tons of mud to the ocean. Not knowing about the sewage part and thinking the water was only brown from the torrential rains with mud I none the less felt compelled to surf that morning as the point was absolutely going off! I was alone for the first half hour of daylight (I might have even beat Julian in the water had he still been there) before "green shorts" paddled out. All the locals were mysteriously missing so he was actually being pleasant for once. We were then soon joined by only Brett and Keith for a great morning session with all the waves we could get (by the time we left the resort at 9am I did notice the count was up to the usual 12-15 surfers). Don't be jealous though, today I have a serious eye infection that I'm nursing, I cannot go out in the sun as my eyes are super sensitive at the moment, hopefully with proper medication being back in the states I'll get better real soon. I hope Brett and Keith fared much better. Don't worry; I'll be back next year undeterred, just a bit more careful when I see foam in the lineup and on the beach! It was at the same time both ugly (beach and water) and beautiful (waves). Beauty won again! (Henry, if you end up putting this letter in the testimonials you may delete this part).
Henry and Rodrigo, please pass along our thanks (and this e-mail) to such a great and sincerely caring staff for making all of our stay so wonderful. Everyone was absolutely the best from Mauricio, Juan, Antonio, Eduardo, and the rest of the boys running the boats; to Isabella and the kitchen staff "coudos" for sure, all the food was unbelievably outstanding; to Miriam and the girls the waitress service was first rate, I couldn't even hide in a hammock for 5 minutes without being offered a drink; to Lissette, Lorena and whomever else had our rooms sparkling clean everyday before we could even finish breakfast; to David and Oscar for keeping the grounds looking so beautiful; to Francisco for the great drinks (and pours); back to Rodrigo and the rest of the staff for the wonderful organization and planning to make our stay so relaxing; to Henry for the simplicity and straight poop about what we'd get when we arrived, right from the airport pick up to the drivers for getting us to and fro on time we were all in your staffs good hands; did I leave out massages? Yes special thanks from Kathy! If I somehow missed anyone, please accept my apologies but there was so much and so many people that were so great about this trip that is impossible to name everyone! We found all the El Salvadorian people as a rule to be especially nice, smiling and happy with so little all the time! My only apology goes to the local surf crew for stealing so many of their waves. Not that they were giving any away. But thanks anyway to them for somehow letting us get our share of waves! And finally a great big thanks to the South Pacific for firing us such a great week of swells.
OK, Kathy is going to download a bunch of pictures she took, not more surf shots, but rather those from the sightseeing most of us passed on. Wait until you see the pictures from town and the zoo! I hope everyone else takes the time to pass along their photos as well, Mike and Mike I'm really looking forward to those from Punta Mango Friday morning (a 9 am session wherein all the boats left 10 minutes after Mike, Mike, Mitch, and I arrived leaving us all alone) with perfect conditions and just enough tide to not kill ourselves (no stars here)! Keep in touch, good surfing and see everyone next summer at the latest! Jorge and Carola, see you in Brazil much sooner! Also please all reply not only with pictures but phone numbers and addresses so we can stay in touch and share surf stories and good times in the future! This was too good of a crew to do a once and out for life!
Oh yea, did I say how great the breaks were? Go back to the web site and look up the write ups on the waves and see how accurate they are! Los Flores was absolutely the most fantastically fun wave! Finally to sum it all up, one word for everything.AMAZING.waves, breaks, week, place, country, staff, value, and guests!
Best Regards to All!
Steve Steven Maloy
President CGM Capital Inc. 506 63rd St. NW Bradenton, Fl 34209
---
Henry,
we had an awesome time in Flores. Even better than last year: the food was better; the new dining area was a huge improvement; the air conditioned bar was cool; and the addition of the new managers -- Gabby and her husband (I am drawing a blank on his name at the moment) was great as well (they really added a very customer oriented attitude). I would rate the trip as a ten-plus. It certainly didn't hurt that the surf was overhead every single day we were done there and just perfect. Glenn of course appreciated the fact we had a desert every night - except the night we had a monsoon on the downstairs patio.
-Brandon
---
Henry,
Just a very quick note to let you know what a fabulous time we had at the lasfloressurfclub, August 24-31, 2007. You really have some great people working there, Gabriella and Hans in particular, have huge gifts in the Hospitality Industry, but all were very nice. While Las Flores was crowded most of the time, we all scored some great waves, and frankly I have never seen my guys so happy with a surf trip. It was very pricey for my budget but I too, thoroughly enjoyed myself. I see why this is your most booked surf-destination. Keep up the good work! It is much appreciated. Everything came off without a hitch. I will write more comments when I get a minute! Please keep my group in mind for destinations with waves of this caliber, particularly for new start ups when crowds are few.
Sincerely, Jan Mayer
---
Hey Henry,
You have an awesome operation going at El Salvador. Very professional staff, helpful, and kind to the guests. Not to mention the accommodations, food availability/quality and comfortable surf in and out spots. We're very happy with the trip. We were also happy the meet the other group, they were outstanding. All in all, an A1 operation. I hope that we can do business again in the near future.
Kind regards, Zasha
---
Hi Henry - Hi Rob,
I have just returned from an awesome trip to Las Flores!! The surf was great!! And the upgrades are really cool. Lorenzo was great and Misel and Antonio did great jobs as captains. Unfortunately, I left 3 items hanging on the clothes line out front of the surfboard storage room. A white long-sleeve Spyder rash guard, a black Body Glove neoprene vest and a pair of O'Neil reef shoes. I'm really bummed I left behind these items and was hoping there is a way I can get them back. What can be done? My next surf trip will be to Las Flores for sure!! The flight time, facilities staff and surf are all top notch.
Thanks for all your help! Eric Strength
---
Henry,
Thanks so much, and I have to tell you I fell in love with el salvador and I told tws I want to go every time we send a crew over, a perfect place to get stock photos to fit into profiles, etc. I am sending a disc for cowboy( the photog kid) of him surfing and maybe you could forward to him. If you want to use any of those shots or others for your web site, by all means please do. Thanks so much for everything on this trip, I got some insane waves myself right out front of the hotel everytime the guy's were done surfing.
Thanks Brian Bielman
---
Rodrigo and Henry,
I am sitting in the airport on my way home from a week long stay at Las Flores Surf Club and I can't stop thinking about how amazing the past week has been. The surf was pumping non-stop all week. I caught some of the best waves of my life and saw many other happy surfers getting tubed. The accommodations at Las Flores are beautiful. From the swim-up bar, to the clean and comfortable rooms, the hotel facilities are amazing. I wanted to take a minute to thank the entire staff at Las Flores. The waitresses were very attentive and sweet, and the bartenders were a pleasure to be around, but most of all, I wanted to thank Antonio and Mauricio for their help in the water. The waves were a bit larger than I am used to surfing, and the surf guides went out of their way to make sure that I was comfortable in the water and that I got some good waves. Also, your new chef, Tom, is great. The food was way above my expectations. Dinner each night was a truly gourmet meal. Thanks for owning and operating such a wonderful surf resort.
Pura Vida, Nikki Quinn
---
Hi Henry and Rob -
I thought I'd drop a quick note to let you know how much my brother and I enjoyed the trip. First of all the resort is great. The accommodations are nice, the eating areas are picturesque. The lower Breakfast and Lunch area is great for hanging out and checking the surf. The swim-up bar fantastic after some of the long session we'd pull at the end of a multi-session day. The staff and management at Las Flores was top notch. They went out of their way, all of them to ensure that we were happy. The two girls who served us a all day really made you smile - they were great. The boat captains were fantastic. But Lorenco and Mauricio really made the trip for us. I just cannot say enough about them. They took an already superb trip and made it that much better. The food was something I was not expecting. The pictures looked great - but wow. Breakfast and lunch were tasty with a wide variety of menu items including some local flair. My brother ate the salvadorean plate and that was it - everyday. Portions were perfect for those spending long hours in the water. But when it was dinner-time, Thomas really took it over the edge with taste and appearance/plating. I have to say one of my favorite things to do other than surfing is eating. I do it well. Thomas did a great job and I can't wait to see where he takes it in the future. As you know, we caught all of the major swell that hit California two weeks ago. It easily hit 10 foot plus with some of the best and plentiful barrels in ages. We caught both Mango and Las Flores very good, by the end of the trip, both my brother and I had the place pretty darn wired - it's hard not to. The waves are super good. I have to say that both my brother as well as others we have talked to are in for next year. We took lots of video so if interested, we can certainly send you a disc. Mahalo for the great trip. we'll be in contact, soon.
aloha, Marc Nagao
---
Henry,
Just got back from Las Flores. Waves were perfect the entire week. 10/28-11/4 The stay was wonderful. Met Rob Fletcher. A great guy. Helped a great deal with a problem I had with my ticket. He is a terrific rep. for you guys. Just wanted to say thank you!
Rich Burns
Rob,
We had a great time at Las Flores. The waves were 4-6 to 6-8 the whole week. The staff (Luiz, Mauricio...) were super cool and the accomodations were awesome. I will definitely go back.
Thanks again, Andrew I. Spengler